Yantra Painting Workshop
Saturday, September 23
@
1:00 PM
–
5:00 PM
UTC+0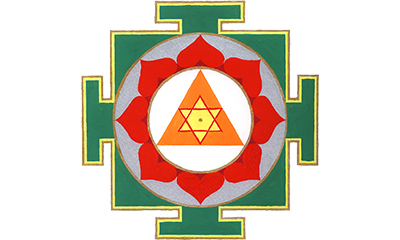 Saturday, September 23 • 1:00–5:00pm PST
IN PERSON OR ONLINE
Online registrants will receive a Zoom link an hour before class.
A yantra is a powerful meditation tool, both through the process—plotting the mathematical structure and systematically painting it—and as a symbol of the mantra it represents (with a central focal point). Focus and quiet concentration are required. The visual and nonverbal right hemisphere of the brain is enlisted. With the inner silence comes self-awareness. Watch your experience and find the center again. Encountering the symmetrical, geometric pattern fosters inner harmony.
Elevate your consciousness by connecting to the Divine, the universal cosmology.
We begin with the Ganesha yantra, pictured above, carefully drawing the sacred geometry. If you have completed a Ganesha Yantra, you are welcome to work on a planet yantra. Each planet has a mantra and yantra and very specific energy. Participants work at their own pace. No experience necessary. Screen-share diagrams will be shown to clarify each instruction for anyone joining online. Work at your own pace.
Materials will be provided for onsite guests.
If joining online, please have these materials ready:
Paper at least 12 x 12″ (ideally cold press watercolor paper)
Compass (essential to draw circles!)
Straight edge with metric measurements
Pencil
Eraser
Paints (gouache is ideal) or colored pencils
Register
Related Events