TTC Info Session
Saturday, September 16
@ (PDT)
4:00 PM
–
6:00 PM
PDT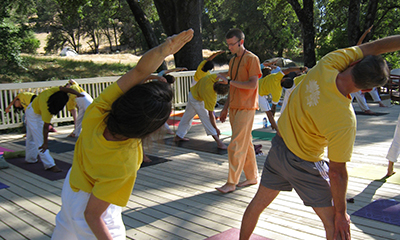 TTC Information Session
Saturday, September 16 • 4:00 PM – 7:00 PM PDT
IN PERSON OR ONLINE
The four-week
Yoga Teacher Training Course
(TTC) gives you the proficiency to transmit the knowledge of Yoga to others and is a profound personal experience.
In this free session, hear more about the rich and comprehensive content, the schedule, how to prepare, etc. There is plenty of time for discussion and questions.
The training course includes these topics:
• Classical Yoga Lineage
• Hatha Yoga Theory & Practice
• Yoga Philosophy, Bhakti Yoga, Vedanta
• Anatomy & Physiology
• Bhagavad Gita
• Chanting for Emotional Regulation
The INFO SESSION includes:
• a yoga class
• a short meditation
• general information, including a video and testimonials
• Q&A session
Join us for dinner afterwards.
Testimonial: "I feel that I have expanded my body through our asana practice, expanded my heart through chanting, expanded my consciousness through what seems like endless self-questioning and expanded my family to a group of wonderful yogis throughout the world." —Kirsty, London
Swami Adiparashaktiananda will be with us from the Sivananda Ashram Yoga Farm in Grass Valley, CA. He has taught the Hatha Yoga portion of the TTC solidly for years.
Swami Sivasankariananda took TTC in 1997 and ATTC in 2008 at the Sivananda Ashram Yoga Farm in Grass Valley, CA and is currently directing the Sivananda Yoga Vedanta Center in Los Angeles.
Priya Chaitanya will also be here from the Ashram in Dalat, Vietnam.
For more information and to register click here.
UPCOMING COURSE DATES (Course takes place at the Sivananda Ashram Yoga Farm in Grass Valley, CA)
September 30–October 28, 2023
March 2–30, 2024
May 4–June 1, 2024
October 2024
Register here for the info session
Related Events