Yoga Therapy (ongoing, by donation)
Thursday, December 15, 2022
–
Sunday, December 31, 2023
PDT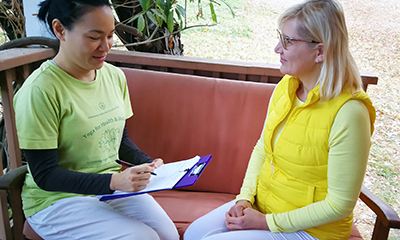 The Sivananda Institute of Health & Yoga (SIHY) seeks to empower individuals with classical Yoga tools and Self-knowledge to promote integral health, to reduce stress, to restore balance and a sense of purpose in one's life. Common health conditions addressed include:
anxiety
respiratory disorders
cardiovascular conditions
chronic pain
diabetes
auto-immune disorders
musculoskeletal conditions
psychology, etc.
Sivananda Yoga Health Education Consultations
Do you need support with your health? Do you find yourself stressed often? Low energy? Confused? Restless? Disease diagnosis?
Yoga practice and philosophy can help you with understanding and awareness to start your process of self-healing. Face any struggle with less negativity and more faith. Learn to adapt. The struggle itself is often a big lesson that we resist. Find the way back to your deeper, authentic Self.
How it works
With compassion and sincerity, the Yoga Health Educator or trainee will go through the health review process with you and give you recommendations to address your goals. You will be guided through self-healing practices, which may include:
dietary/sleep recommendations
yoga postures
breathing exercises
meditation
relaxation techniques
Please wear modest, comfortable clothes. All mats, blankets and props needed for the sessions will be provided.
Packages
By appointment. Three 90-minute sessions
With a trainee in the 800-hour Sivananda Yoga Health Educator Training Course under the guidance of an IAYT-certified mentor by donation to the Sivananda Institute of Health and Yoga, (suggested donation of $108. Sliding scale available)
With an IAYT-certified Yoga Health Educator $300
(Single sessions and other packages are available. Sliding scale possible.)
Please note: Yoga Health Educators are not medical doctors. This consultation is not intended to be a substitute for professional medical advice or treatment for specific medical conditions.
To support you further, we offer:
Talks and workshops with health professionals
Ayurvedic consultations and followup by appointment
Private yoga classes by appointment
Weekend intensives on specific health issues
Ayurvedic body treatments
Book an Appointment