Yoga Teacher Training Course
Saturday, October 22
–
Sunday, November 20
PDT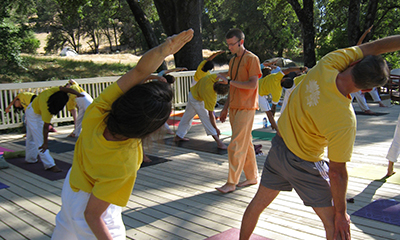 4 WEEKS • 6 DAYS PER WEEK
at the Sivananda Ashram Yoga Farm in Grass Valley, CA
Yoga Alliance-Certified 200-hour training
Authentic yogic teachings at home in real-time
Daily personal coaching with your mentor
Needless to say it is a different experience than the hitherto existing Sivananda Yoga Teachers' Training. But it appears that the online-version brings a great amount of nearness and authenticity.
This is a great way to use our time at home in a meaningful way: This is the time to intensify our practice, learn new aspects of yoga and implement a healthy and positive lifestyle.
The existing restrictions give us a chance to reflect on ourselves: our habits, our mental tendencies, our perspective on life. The TTC online will support this process of deep inquiry and will enable you to gain insight into your inner world.
The lockdown is deeply impacting the society and life as we know it: the TTC online will give you tools to develop adaptability, openness of mind and creativity to reinvent your life, your relationships, and your connection to the world.
You will learn how to transform your living space into a mini-center of spiritual power, which will inspire you to maintain a systematic practice at home after the course.
The training includes practical cooking instructions. During the four weeks, you will learn to prepare healthy and tasty vegetarian meals.
Guest speakers and artists will share their knowledge in the fields of Ayurveda, mantra chanting and Indian arts.
Individual coaching every day with a personal mentor enables optimization of your personal practice of asana, pranayama, meditation and mantra. Questions and answers on the teaching contents.
Since there are no costs for room and board, people with a tighter budget can also participate.