ONLINE Joy of Kirtan Course (5-day)
Monday, March 30, 2020 @ 2:30 PM

-

Friday, April 3, 2020 @ 4:00 PM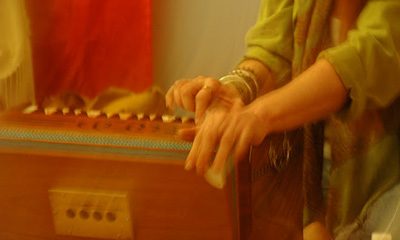 Course meets daily.
Mantras and chanting are an ancient part of the yogic tradition. There are many traditional mantras—the Divine name encased in sacred sound structures—and they are powerful when repeated, creating a special vibration that provides healing benefits and profound transformation. 
In the practice of kirtan, the spiritual singing and chanting of the Divine name, we musically repeat mantras together, to create a strong and positive vibration. This practice allows you to open your heart, voice, and hands to receive the benefits of kirtan.
Learn a little about Sanskrit pronunciation. Be introduced to the main deities. Try your hand at drumming or other percussion.
Each session will include pranayama (breathing exercises), a talk and chanting. Class will end with meditation.